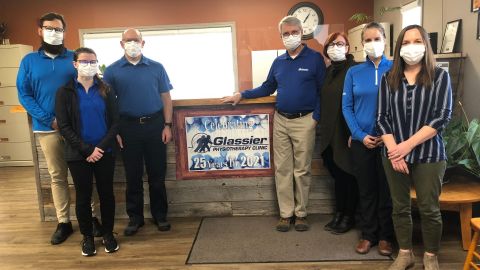 A Warm, Friendly Clinic in Wingham for Patients in Recovery
Glassier Physiotherapy Clinic, is the leading provider of physiotherapy and pedorthic services in Wingham and the surrounding area. At our progressive clinical setting, we give our patients rapid access to the best assessment and treatment. We are proud to help our patients improve their mobility and quality of life.
WE ARE CELEBRATING 25 YEARS IN BUSINESS!!!! 1996-2021
GPC 2020/21 Update:
Covid-19 caused stress for GPC like for the rest of the world. Our clinic was closed for 2.5 months, March 14-June 1,2020
During our covid-19 shut down we were the victims of a break-in on April 4, 2020. Among items stolen was a component we used as a server in our computer network to store potentially sensitive information.
This unforeseen compromise of our facility was incredibly distressing to us. In the days following the break-in we feel we took appropriate steps to ensure that the appropriate authorities were made aware of this potential breach. We reported this incident to the Information and Privacy Commissioner of Ontario on April 23,2020.
The server in question was password-secured and the data within was encrypted. The actual risk of compromise of the information contained within is very low.
On January 4, 2021 we received communication back from the Information and Privacy Commissioner of Ontario. This office is satisfied that this breach has been contained to the extent that is possible and that we have taken necessary remedial steps including the purchase and installation of a new clinic security system.
Pursuant to our obligation to Ontario law we are posting this notice regarding your information.
We apologize, on behalf of ourselves and our staff for any inconvenience or worry that this may cause.
At Glassier Physiotherapy Clinic we hold ourselves to the highest possible standards when it comes to your private information.
For more information, please speak with Nicki Glassier 519-357-1383
To contact The Privacy Commissioner with questions or complaints call 1-800-387-0073 or email info@ipc.on.ca